If you're familiar with Amazon or Amazon Prime, you're probably aware that the shopping site provides an online video streaming service. It has thousands of video content accessible for free to Amazon Prime members, and you can also rent and purchase several other classic and brand-new films. There are so many to pick from that it's somewhat daunting.
The following films offer essential lessons on a range of topics that are important to entrepreneurs. To help you make the most of your time watching movies, I've organized the films into key categories and classified them according to whether they are accessible for rental through Amazon and also available to stream for free on Amazon Prime.
These 10 films go above and beyond entertainment. They set the bar high, show the talent and determination you'll require to succeed, and warn against corruption and greed.
Storytelling that brings Wall Street to life
These films tell some of Wall Street's more fascinating real-life stories, from corrupt stockbrokers to smart hedge fund executives.
1. The Wolf of Wall Street – available to rent via Amazon
The hit film has a wild and outrageous story that happens to be inspired by a real story. The story revolves around a scam artist broker Jordan Belfort (played by Leonardo DiCaprio), who accepts an entry-level job at a Wall Street brokerage firm.
Watch out for Belfort, an excellent entrepreneur who was able to create something of nothing. Unfortunately, his company was plagued by fraud and corruption. This tale teaches entrepreneurs valuable lessons, which aren't the least: to not become a crook.
Also, read 13 Best Slave Movies On Hulu
2. Big Short – watch for the cost of Amazon Prime
The Big Short tells the tale of a group of Wall Street fund managers and investors who could discern the impending housing market crisis before it began to collapse in 2007 and 2008. The film chronicles the activities of the hedge fund manager Michael Burry (played by Christian Bale), who finds out that financial institutions were consolidating risky subprime mortgages into "AAA-rated" primary mortgage-backed security were then offered to investors. He knows that the U.S. housing market is situated on top of a massive asset bubble, which is about to pop.
What to look out on: Burry creates a credit default swap that lets him short or bet against the bonds, thereby giving his investors lots of cash when the housing market crashes. The most important lesson here is that even though everyone else was snoozing at him for believing that the market could not be broken, Burry stuck to his strategies, which were successful.
The story of American iconic icon Walt Disney
Walt Disney was a pioneer in the field of animation as well as in the world of entertainment. The films provide a more in-depth into his background and the process of creativity that he employed to create his famous characters.
3. Save Monsieur. Banks – rent through Amazon
The film tells the story of Walt Disney's struggle to acquire permission to P.L. Travers, the author of Mary Poppins. Despite Disney's efforts, Travers refuses every proposal he receives because she worries that the version that Disney has adapted to her story will not be faithful to the characters she developed. She critiques every step in the process of transforming the novel into a film script, which could end up destroying the whole project.
What to look out for: the delicate manner in which Disney manages this issue. He could easily let the project fall apart or try to force Travers to agree. Instead, he tries to better understand her issues and listen to her concerns. He finally discovers a way to win her over. His determination is rewarded with the film that received the hearts of audiences and universal praise for the generations to be.
4. Walt Before Mickey – available for free until Amazon Prime
Although you've probably been informed about Walt Disney's numerous achievements, you might not know the numerous challenges he had to overcome when he was on his way to his success. Walt Before Mickey shows a variety of mistakes Disney was forced to overcome when the ardently pursued a successful career for himself in the field of animated films. It is an account of the early Disney period. Before he came up with Mickey Mouse, Disney created another popular animated character, Oswald Rabbit. However, Disney did not own the copyright to this character, so he was forced to decide to release Oswald.
Also, read Prey Movie Where Was It Filmed | Pray Filming Locations!
What to watch out for How to be successful in your job is among the many lessons he absorbed through the bumpy path to success. It is a valuable idea for entrepreneurs to learn from this movie. When Walt created Mickey the Mouse, he was running his fourth company in animation, and this was the one that has stuck: Walt Disney Studios.
The stories behind the famous business disputes
Through time, businesses have been at war for a myriad of reasons. Sometimes, these disputes become epic and could push companies to the edge — or even propel them to new highs.
5. Ford V Ferrari Rent through Amazon
In the 1960s, the automaker Ford's president Henry Ford II tried to purchase the top sports car manufacturer Ferrari however, the deal was canceled in the final moments. Ford V Ferrari features Matt Damon and Christian Bale and traces the story of Henry Ford II's displeasure as a catalyst for revenge, prompting Ford to develop a brand new vehicle that could compete with Ferrari's model in Le Mans, the world's longest-running active sports car endurance race.
What to look out for: Take note of how Ferrari executives don't consider Ford in the same way as an important rival and the effect that has on the company. The film also demonstrates how Ford's plan passes through several Middle managers. It decreases the effectiveness of their operations.
6. Adidas against. Puma: The Brothers' Feud – watch for absolutely free until Amazon Prime
The film tells the tale that lies behind the world's most famous shoe brands, which stems from a bloody family dispute that not only caused two brothers to fight one another but also splintered the residents of their small town in Germany. This is a German-language movie that has English subtitles.
What to look for: The competition between the two brands spanned far beyond the realm of corporate rivalry however, it definitely made both companies excel. The film demonstrates how the two companies' different approaches to business led to the creation and growth of the two biggest sports brands around the globe. The movie ultimately raises the question: If it weren't for this rivalry between families, which companies would be in their current position?
The background story of the world's biggest fast-food chain
It's not a secret. There's no doubt that McDonald's is the most popular restaurant chain worldwide. It has transformed our eating habits, whether for the better or worse. The story of the origins of McDonald's gives great insight into the process of innovation that occurs when individuals are willing to think outside of the box to address customer issues.
7. The Founder is available for rent through Amazon.
Today's McDonald's empire is largely due to an individual whose last name isn't McDonald's. In 1948 the McDonald brothers launched a revolutionary kitchen assembly line in an era when drive-ins were still the norm. Then came Ray Kroc, who delivered numerous milkshake mixers to McDonald brothers back in the year 1954. Kroc was amazed by the work they had done and saw a way in which they could bring the McDonald brother's "golden arches" across the country. Kroc eventually purchased the company and all rights related to McDonald's name. The company today is valued at over $100 billion. Kroc is seen as its founder.
Also, read 9 Best Jesse Stone Movies On Netflix
What to watch out for The film demonstrates how important that you never quit. Still, it also sheds some light on other aspects of business, like the importance of having a great team and the importance of ensuring that all legalities are in place.
8."The Real Founder" – view at no cost through Amazon prime
The real founder features the interview of Dick McDonald, who, together alongside his older brother Maurice established the McDonald's restaurants chain. Dick McDonald offers his side of the story, detailing how they started the drive-in located in Southern California, which became one of the most sought-after restaurants in the city.
What to look out for If you've already seen the film The Founder, This documentary will give you a new perspective. The real Founder provides the background of what happened when the McDonald brothers developed their own inventions to speed up the food service. They even started franchising their restaurant before when Ray Kroc was part of the story.
Women inventors' stories who have succeeded and were unsuccessful
The most important elements to success are often based on being driven, ambitious and talented. However, as these films show, you must be able to back it up with a quality product that can perform as promised.
9. Joy – Rent through Amazon
The film reveals the struggles of being a woman-owned business owner and offers a powerful message for women who want to establish a successful business. Joy is inspired by Joy Mangano's life. Joy Mangano is a self-made millionaire who built a business empire.
What to watch out for The story of this film is about defying every obstacle and breaking through the ceiling of glass. The most important lesson is that if you're hoping to create a huge and successful business, you must be ready to fight every day, no matter the weather. Being successful means that you are willing to engage in a multi-front war.
10. The Inventor Out for Blood in Silicon Valley – watch for absolutely free until Amazon Prime
This documentary tells the story of Elizabeth Holmes, founder of Theranos, the first startup business to test blood. The public believed that their machine, the Edison one, could run hundreds of blood tests using just one finger poke. Then, she was charged criminally for committing false.
Also, read 10 Wonderful Cinderella Movies On Amazon
What to look out for: Holmes was gifted at telling a story that pulled people into her story and made them believe in her. Entrepreneurs can learn from how she mastered enticed investors to invest in her. However, she refused to accept any criticism from those who challenged her business practices. Successful entrepreneurs take note of feedback and encourage open and thoughtful dialogue.
Since its beginning, HBO has cultivated the production of high-quality documentaries and docu-series, and the quality has only improved with time. From true crime, the pursuit of justice, and exposure to HBO, Max, the top cable channel, has created many of the best relevant nonfiction films of the 21st century. Currently, HBO Max subscribers can access all of them, as well as a variety of documentaries and series produced by HBO Max and WarnerMedia's various companies (e.g., CNN, TNT), which don't have the prestige of the HBO Documentary Films brand. Below are the top documentaries that HBO Max has to offer today.
A Dangerous Son (2018)
Liz Garbus is one of the most prolific, efficient, and flexible documentary filmmakers in the world currently and has numerous collaborations with HBO among her credentials, including the true crime film "There's Something Wrong" With Aunt Diane (2011) and the docu-series I'll Be Gone In the dark (2020) Also streaming via HBO Max. The significant and worrying film The Dangerous Son, which is hard to sit through at times, addresses the urgent problem of children who suffer from mental and emotional disorders that are severe and also profile three families struggling. Offering a different perspective on the growing problem of violence in schools (contrasting with the more frequent use of docs that focus on gun control) Garbus's emotional, character-driven film is an alarming exposé and is a further achievement in the field of dramatic nonfiction storytelling for the director.
Allen v. Farrow (2021)
It's not a surprise that this documentary, which examines the tangle of allegations about sexual abuse made against the director Woody Allen, as well as examines the troubling common themes throughout the filmmaker's collection of films and was immediately controversial. Reopening the wounds of Allen and Mia Farrow's marriage, one of the most talked about and complicated Hollywood stories, will not be easy with clear solutions. With interviews with key players like Mia Farrow, her son Ronan Farrow and her daughter Dylan Farrow, who accused Allen of sexually assaulting her when she was a child, The docuseries, which Kirby Dick and Amy Ziering directed, was criticized for omitting specifics to simplify the complex background. It is interesting to hear about the harm caused by Allen both during and after his affair and Mia Farrow on her and Dylan specifically, and the way Allen was able to use his fame and popularity to distract attention from the negative press, resulting in a difficult, frustrating but essential viewing.
Andre the Giant (2018)
Andre The Giant is an amazing character in so many ways. The massive professional wrestler, as well as the star of the film The Princess Bride and playing Bigfoot in an iconic scene from the television show The Six Million Dollar Man and was a genuinely loved character throughout his life he's able to maintain his popularity through the HBO Sports documentary which Bill Simmons produced. The fact is that he's given an impressive portrait however, the director Jason Hehir is certainly in awe of his subject. He paints a beautiful portrait with only a few flaws to show. The film is about Andre the legend, Andre the legend, Andre the woman of the house, and yes, Andre the flatulent. The film portrays his skills as a champion and tragic human being. Even even if you're not a wrestler lover, you'll appreciate Andre, The Giant.
at the Heart of Gold: Inside the USA Gymnastics Scandal(2019)
The tragic, harrowing, and heartbreaking tale of the sexual abuse scandal that affected both the USA Gymnastics national team and Michigan State University lasted so long and affected millions of people that it's almost impossible to capture the complete extent of the scandal in the form of a feature-length HBO film. The Dr. Larry Nassar is formally accused of assaulting more than 250 victims during his time working as an athlete trainer for teams for women's nationals as well as the University of Michigan. Michigan State, though it's likely that the actual number won't be revealed. Filmmaker Erin Lee Carr finds a diverse array of victims willing to tell their stories on film, which help expose the depths of Nassar's machinations as well as his brazenness. the numerous institutional authorities who didn't protect their children, despite warnings and complaints regarding this highly respected trainer's actions.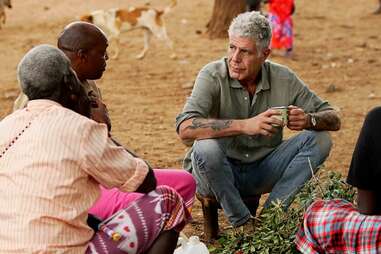 Anthony Bourdain: Parts Unknown (2013-2018)
It is hosted with it's creator, the legendary late food entertainment expert Anthony Bourdain–who, it must be said was a top chef at the New York's Les Halles before his breakout 2000 book, Kitchen Confidential which led him to stardomand Parts Unknown stays true to the showman's magic which probably helped get it precursor "No Reservations," approved initially. This is a show that focuses on food, in the same as It's a show about food in the same way that The Shiningis an action film about hotel management and management, that is to say that it is not very or not at all. Yes, Bourdain eats, but there are better food-related content in other shows. The CNN show's real purpose is on telling stories about methods that communities develop by nurturing, educating, and examining their own. Although Anthony Bourdain may not be around, the show along with its 12 outstanding seasons are an integral part of his long-lasting legacy and a tribute to the diverse cultures that surround food.
Baltimore Rising (2017)
Following the death of Freddie Gray, in 2015, following being arrested, Baltimore erupted with protests against police , and the insidious inequality that plagues the majority of the United States. It is an HBO original documentary explores the way in which this has been that has been repeated in towns and cities all over America when a incident of violence committed by police is made public, and the response of the police is not enough or prompt and, as a result, exposes the deeper causes of growing inequality and an uninterested ruling class. Each story is unique in its human component, however, one of the sad aspects in Baltimore Risingis that it could occur anyplace across the United States, at any moment.
The Bee Gees: How Can you mend a broken Heart (2020)
The history and the times that comprise one of the most popular family bands that stomp their toes is revealed in Frank Marshall's fascinating and heart-warming documentary. The film explores the meteoric growth from Maurice, Robin, and Barry Gibb, as well as the parallel, and ultimately tragic story of their younger brother Andy. From chart-topping singles and sold-out venues, The Bee Gees How to Mend the Broken Heart Broken Heart is an essential viewing for anyone who has had the pleasure of hitting dancing.
Beware of the Slenderman(2016)
In 2014, two of 12-year-old girls were convicted as adults for attempted murder after stabbing a fellow student in what they claimed as an effort to establish that there was a strange creature known as Slender Man. Director Irene Taylor-Brodsky's compelling documentary describes the incident, now referred to by the name of Slender Man stabbing, a tragic incident that nearly claimed the life of a innocent girl. The director expertly blends interviews, interrogation videos, and reenactments to address an important moral issue–should children be responsible for adult-related crimes? make a cautionary tale about the power of the internet to alter our minds.
Breslin as well Hamill: Deadline Artists (2018)
Documentaries on journalists can be a challenge since it's difficult to make the raging and powerful words that are written and convey the passion and wit of the author. In many cases, directors are forced to enlist performers to read their famous articles in front of grainy images. Fortunately, Breslin and Hamill: Deadline Artists, the twin portraits of New York columnists Jimmy Breslin and Pete Hamill, is packed with interviews and archival footage to address the issue and dive into anecdotes and stories that bring back a lost period of journalism that was ink-stained.
The Friedmans (2003)
A decade ago, before Jarecki changed the direction of a criminal investigation through The Jinx, the year-long Robert Durst docuseries The Jinx director Andrew Jarecki dug into the footage of a different family who was facing life-altering charges. When the patriarch of Friedman family Arthur as well as one of their three sons Jesse were accused of abusing the students in their online class, the Friedman family decides to record their experiences in video to document the incident, but never planning to show them to the general public. Jarecki's access is through another brother, David, who went into becoming a well-known clown at parties and was the basis in the second Jarecki project called "Just a Clown–creates a very intimate portrayal of a family that is shattered and unsure of what is true and losing faith in each others, and facing complete destruction. Even though the two of them, Arthur and Jesse finally admit to their guilt, the ending of this highly influential HBO film can leave you feeling less certain than ever of the events that occurred.
Class Action Park (2020)
In the late 1970s an attraction that was new and unassuming hit Vernon Township, New Jersey: Action Park, an amusement park with a water slide that attracted thousands of visitors from across the tri-state region. It attracted attention not just due to its go-carts waves, or massive innovative water slides but also because of the numerous accidents, lawsuits and even deaths it caused. This fascinating HBO Max documentary from directors Chris Charles Scott and Seth Porges is a balanced look at the comedy and shocking value of the park , with its teens who behave badly and the risky rides, while exploring the underlying shadiness and the underlying story. It's not an easy one to navigate however, you'll leave the film with a better appreciation of this bizarre story of drugs, sex and go-carts.
Cries from Syria(2017)
The Syrian Civil War has wrought many years of destruction, triggered the world's refugee crisis and completely destabilized a country that is home to some of the oldest remains of humanity. Director Evgeny Afineevsky stepped into the ground during the conflict to make this documentary, which features videos taken on smartphones by people who are caught in the middle of the conflict, and featuring interviews with children as well as other refugees forced to flee by the fighting. As with all the features on Syria's recent past, it's an emotional glimpse into a conflict that defines a generation and one that speaks to the people who have been most deeply affected by the conflict.
David Bowie: The Last Five Years(2017)
The legend and iconoclast who was instrumental in defining a new generation of postwar music did not tell the world during his last years of life that he was suffering from cancer that was fatal. However, he displayed a laser-like focus in his eerie last release, "Blackstar and the documentary gives an additional dimension to pop culture's most famous Chameleon.
David Lynch: The Art Life (2016)
The longtime admirers of Director David Lynch know better than to anticipate explanations from the elusive writer. The Art Life features interviews at Lynch's house, however, in typical Lynch manner, he talks mostly in anecdotes or oblique phrases, making you feel that you don't have an idea of what is going on with him. However, as with any usual Lynch film, it's intriguing. While watching Lynch paint, or even describe his childhood in a solitary way, grabs your attention in fascinating ways.
Diego Maradona (2019)
Kapadia's Oscar-winning documentaries tend to concentrate on the tragic genius, a subject which is echoed in his study of possibly the greatest soccer player to ever live. Diego Maradona's incredible left foot was only matched by his addiction to alcohol, drinking and eating. It's a shame that it did not ruin his career completely but contributed to several prominent failures following his playing time. Contrary to the previous subjects of Kapadia's film–Formula1 driver Ayrton Senna, and singer Amy Winehouse–Maradona's still active and healthy, which is a large one reason why the film's story is limited to the number 10's winning trophy time at Napoli and the place where he fell into a world of addiction and criminal activity. This limited scope may be detrimental to the film however, it's inclusion of unseen (and in some cases recently discovered) footage is what makes Maradona an outstanding achievement in documentary filmmaking that's perfectly within the direction that Kapadia's filmmaking has taken.
Elvis Presley: The Searcher (2018)
It's hard to believe that more than 40 years after his death, there's still room for another film on Elvis–a two-part, three-and-a-half-hour documentary at that. It's a great overview of the growth of his musical career. Instead of the traditional talking-head method, this documentary uses voiceovers, and plays interviews with the interviewees' voices over lots of footage from the archives of the King and letting the King remain in the spotlight. Among those whose recollections and commentary make up the biographical oral history are Priscilla Presley, Bruce Springsteen, and Tom Petty, whose recent passing makes for bittersweet inclusion.–Christopher Campbell
Eliminate All the Brutes (2021)
The sprawling, four-part docuseries by Raoul Peck ( I am not Your Negro) deprograms the centuries-old whitewashed history lessons in American schools by presenting the honest facts about the brutal greed from white people (typically males) who wiped out Native populations and destroyed resources across the globe in their brutal, inhumane efforts to colonize the continents. Recognizing the title and concept in Swedish writer Sven Lindqvist's novel that is itself a quote of Joseph Conrad's Heart of Darkness This work is a blend of reenactments, in which Josh Hartnett stands in across every episode in the role of the white specter in history as a reflective, narratives that are philosophical, as well as sometimes infuriating archives of the world of pop art that speak for itself an enormously significant and well informed reframing the whitewashed narrative of the past.
F = Fake (1973)
Orson Welles entertains viewers with an intriguing tale of fakes and fabrications and frauds, and it's like an esoteric magic show. Instead of using sleight of hands The Citizen Kane Director employs editing sleights of hand and offers an unstructured, ambiguous story that involves the art fraudster Elmyr de Hory, hoax writer Clifford Irving, and Welles his beautiful assistant who serves to distract and of course, actress Oja Kodar. Additionally, Welles himself as a self-confessed criminal. Like many films on tricks, this film is begging to be watched multiple times.
537 Votes (2020)
The film was released just before the highly-contested Trump presidential race, the documentary by Billy Corben (Screwball) could not be more relevant. It's sure to be triggering for those who have was snoring during the 2000 presidential election as well as the tense Florida recount however, the insightful documentary will reveal the factors that drove George W. Bush to be elected the state president with a slim margin the president did. It examines both the Elian Gonzalez issue and the impact it had in the way that Miami's Cuban populace voted as well as the clever strategies that the Bush administration used to ensure an election victory in Florida where the candidate's brother was governor. The piece paints a complete view of the contest.
To All Mankind (1989)
Brian Eno's bizarre and eerie music soundtracks Al Reinert's amazing documentary about 1969's Apollo 11 moon landing, that uses only archive footage and narration to explain the space travel experience and landing on a different planet could be similar to. For more facts and information, for all Mankind is about creating an unimaginable exhilarating, exotic feeling.
Little Girls (1997) Little Girls (1997)
Spike Lee's heartbreaking documentary is a recollection of the events of the day of September 15th 1963, when Klansmen set off a bomb at the 16th Street Baptist Church in Birmingham, Alabama, killing four girls. The film reveals the brutality of the black Americans in the Civil Rights movement sympathizing with families who endured the most devastating loss and capturing a poignant interview with George Wallace, the governor who was segregationist in Alabama in the wake of the attack, whose atonement for promoting racist ideologies cannot even penetrate his stout shell. four little Girls will be a work of art that deserves to be seen and appreciated.
Gimme Shelter (1970)
If you're unfamiliar with the music history or those of the Rolling Stones, or pop culture in the 1960s, you might be able to get the dark to see the Maysles Brothers movie (co-directed by the late Charlotte Zwerin) that is well-known for its tragic plot twist. The documentary chronicles the conclusion of the Stones 1969 US tour in the Maysles their signature observational style. It focuses upon the Altamont Free Concert. The events that transpired there were shocking to the audience and performers as well as everyone else around the world before being used as the plot twist in the film's cult.